Internal promotions within your talent acquisition (TA) function can be a bit tricky as they need to be objective, transparent, and fair. Everyone is contributing to accomplishing the overall TA business objectives, but we all have different traits, competencies and skills.
Recruitment is getting the most suitable person for each position and it is no different for your TA Function. If TA is not doing this amazingly well for itself, how can it be expected to do this effectively for the overall organisation?
Having worked in the TA trenches for over 20 years and organising numerous conferences and workshops in my role with ATC Media and Events, I have met many recruiters with varying levels of capabilities. One question that always had me was how do I determine if they have the traits, competencies and skills to succeed in their role? I got my aha moment during a conversation with the leader of an Executive Recruitment Function of large ASX company.
We were discussing the role of an Executive Recruiter and the logistics involved during the process of hiring senior management roles. Interestingly, the ability to manage logistics did not rank high in terms of critical skills needed. Instead, the most difficult part of the process was the management of very busy senior managers and candidates. From here, we identified some essential characteristics that an Executive Recruiter should ideally possess – influencing skills, planning and organising, empathy and customer orientation.
The conversation then shifted to how we can recognise these capabilities within less experienced recruiters so that we can further enhance them. This also represents a great opportunity to rotate them into the senior job to hone their skills and gain the experience of dealing with senior stakeholders.
The ability to identify junior recruiters with a base level of these essential characteristics accurately becomes crucial as this could be a springboard to creating a great TA team. It got me thinking hard about creating a tool that can help TA leaders achieve this – how good will that be? And this eventually led to the development TCS.
TCS is designed to help TA leaders discover strengths and development areas for their team, so that they can optimise and create the workforce of the future. It is a research-based, validated assessment tool that helps to eliminate the guesswork and gets you the data you need to pinpoint development areas.
Here are the results from running the TCS assessment across the Executive Recruitment Function of the large ASX company: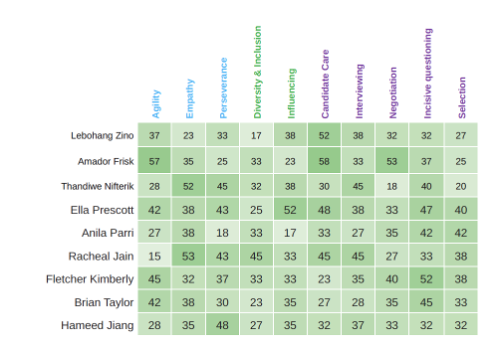 From this heat map, you are able to identify the recruiters who possess these capabilities – influencing skills, planning and organising, empathy and customer orientation – and put them forward for more challenging hiring tasks. It allows you to gain an overall understanding of what are your team strengths so that you can identify mentors who can assist with coaching the rest of your recruiters.
Identifying team members for internal promotion is also made easier as a result of the availability of objective, benchmarked data. It allows you to make knowledge driven decisions to optimise the team and enables you to become more strategic in managing your resources.
TCS is currently inviting TA teams to be part of our beta testing and if you are keen to be a part of making a difference in the talent acquisition industry, do reach out to me for a chat. I look forward to hearing from you.